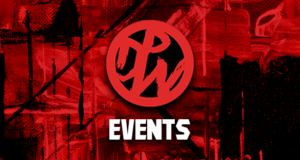 "The Ellen DeGeneres Show" Guests | Week of December 7 2020
December 7, 2020 @ 3:00 PM

-

December 11, 2020 @ 4:00 PM

EST
Upcoming guests on all new episodes of The Ellen DeGeneres Show for the week of December 7, 2020 featuring a performance by Meghan Trainor and more
---
Full listings and upcoming guests on this week's (December 7) all new episodes of "The Ellen DeGeneres Show" are below. "The Ellen DeGeneres Show" show airs weekdays at 3PM ET on the NBC Television Network.
You can find new videos, articles and much more on EllenTube.
---
Monday, December 7: Kate Mara ("A Teacher").
Tuesday, December 8: Chance the Rapper; a dad's dancing for his son goes viral.
Wednesday, December 9: Leslie Odom Jr. is interviewed and performs.

Thursday, December 10: Pharrell ("Voices of Fire").
Friday, December 11: James Corden ("The Prom"); Meghan Trainor performs.
---
Listings are subject to change.
---
Emmy-winning, upbeat talk-and-variety show featuring celebrity interviews and music performances, tinged with DeGeneres's off-the-wall observational humor. The show includes frequent viewer participation, as she often reads fan letters on air, calls people just to chat and recognizes acts of kindness that were brought to her attention.
---
"The Ellen DeGeneres Show" Guests week Of December 7 2020 * There have been major changes to our events calendar due to the coronavirus pandemic. We started this calendar in 2018 with pro wrestling events, then added some other live sports and entertainment events. The goals were to help sell live tickets for all kinds of events and help fans finds events and tickets easier. Then the virus happened and live events stopped for a while, so we had to change things up. We've since added and will continue to add, many televised events. Such as upcoming guests on morning, daytime and late night television shows. As well as listings and promos and more for many diff tv shows. You can find most of those on the calendar and you can also search for any type of event or show, with our search bar above. Most live events have ticket links, venue information, dates and times. But some events have more, and some have a lot more and are basically event previews. It depends on the information available at the time we post the event and if we are able to update that event, etc. Some days have one to three events and some have over twenty on the same day. So you may have to click the link at the bottom to see more on certain days.