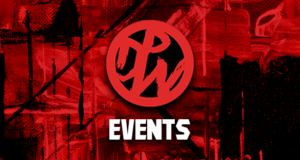 Fire From The Sky | Defy Wrestling
September 25 @ 6:00 PM
EDT
Photo: Twitter
---
Defy Wrestling presents Fire from the Sky on Friday, Sept 25th at Washington Hall in Seattle!
Defy Wrestling Fire from the Sky features THE GREAT SASUKE and it will be a 21+ event.
---
Press release from Defy-
DEFY Wrestling will suspend promoting live events for the months of March, April and May, to help battle the spread of COVID-19 and comply with governmental health and event requirements.
As a part of this shift, previously announced Washington Hall shows will be postponed to later dates.
• THE DEFYANT ONES moves to Friday, June 26, 2020 at Washington Hall
• FIRE FROM THE SKY moves to Friday, Sept 25, 2020 at Washington Hall
Current ticket holders to our previously scheduled April 17th event will be transferred to THE DEFYANT ONES on June 26th at Washington Hall. The show will remain ALL AGES. Ticket sales resume on Friday, April 24th (Card Subject To Change). We encourage you to hold on to those tickets! For questions or refund information contact us directly at defy@defywrestling.com
FIRE FROM THE SKY moves to SEPTEMBER 25th at Washington Hall and features THE GREAT SASUKE it will be 21+. Ticket on-sale date TBA
---
In this toughest of times, every live event company is on a razor's edge, including DEFY. With small profit margins and costly expenses, DEFY puts everything they can into each show, such as, DEFY relies on the consistent support of their community to remain a thriving business.
DEFY needs your help. We want to stick around for the long run but please ask you to consider helping us in the following ways:
Allow us to keep your purchased tickets in our system by having them transfer to the new date. This allows us some stability while not generating any new sales.

Subscribe to our new Patreon subscription service DROPKICK by DEFY. As a patron, we will be offering exclusive pre-sale codes for the very first time as well as new content and perks. This new platform will launch in April and will allow us to keep connected as the DEFYANCE during the pandemic and beyond.

Subscribe to DEFYonDEMAND.com and relive DEFY events. With commentary by Rich Bocchini, incredibly well-produced visuals, and backstage interviews and segments, experience DEFYonDEMAND.com

Check out our new selection of merch at DEFYwrestling.com/store including a new Champion branded DEFY1 commemorative t-shirt, THE REAVERS zip-up hoodie, DEFY International dad-hat and much more!
Thank you for your patience as we shift plans to accommodate the safety and health of our city and region and keep DEFY around. We have the deepest of gratitude for all of your doing your part to battle this pandemic and who continue to support local small businesses.
(From Jim Perry, Founder of DEFY Wrestling)
---