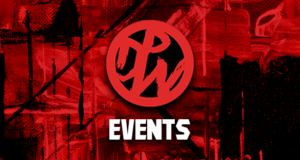 GalaxyCon 2020 Richmond
GalaxyCon is a festival of fandom with TV & Movie Stars, Comic Creators, Writers, Artists, Voice Actors, Wrestlers, Cosplayers, Fan Groups & More taking place February 28th- March 1st at the Greater Richmond Convention Center!
GalaxyCon 2020 Richmond is where you make memories with friends & family.
It's where you meet celebrities at their booths and purchase autographs & photos with them.
It's where you see live performances of every variety: Q&As, Wrestling, Costume Contests, Stand-Up Comedy, Sing-A-Longs, Shadowcasts, & More!
---
Tickets for GalaxyCon 2020 Richmond are on sale now at the link below.
Check out our free Pro Wrestling
Events Calendar
for hundreds of more events from around the world.