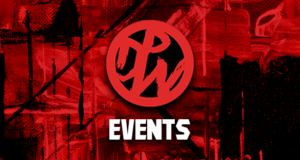 Nightmare After X-Mas | Wrestling Revolver
December 27, 2019 @ 8:00 PM
EST
The Wrestling Revolver presents Nightmare After X-Mas on Friday, December 28th at the Val Air Ballroom in Des Moines, Iowa!
Nightmare After X-Mas features the annual CAGE OF HORRORS!
This year, it's FOR CONTROL OF WRESTLING REVOLVER!
#Revelation (KILLER Kross, Ace Romero, JT Dunn, and Jessicka Havok w/ Phil Stamper) take on #oVe (Sami Callihan, MADMAN Fulton, Dave Crist, and Jake Crist).
---
---
Impact Wrestling XXX-Division champion Ace Austin defends against Trey Miguel and Blake Christian in his Revolver debut!
---
---
The Revolver Tag Team Titles are defended by The North (Josh Alexander and Ethan Page) in a gauntlet match against The Rascalz (Dezmond Xavier and Zachary Wentz) vs. The BESTies in the World (Davey Vega and Mat Fitchett) vs. The Crew (Rich Swann and Jason Cade) vs. James Logan and Tyler Matrix.
---
The feud between The Revolt (Caleb Konley and Zane Riley) and Andy Dalton and Moonshine Mantell comes to a head in a Texas Tornado Tag Texas Death Match!
---
(See what The Revolt want for XMas at bit.ly/revoltxmas)
---
Larry D takes on Curt Stallion!
---
Arik Cannon vs. Darin Corbin!
Also featuring Revolver Open Invite Scramble champion Clayton Gainz and more!
---
Tickets are on sale at the link below!
---
Meet and Greet is 6:30PM & bell time is 8PM.
---
---
Follow Revolver: twitter.com/pwrevolver – facebook.com/pwrevolver – instagram.com/pwrevolver
---
---
---
Check out our free Pro Wrestling Events Calendar for hundreds of events from around the world.
If you have any questions or comments about this event. Please leave them in our comment section below.
---
The main goal of our events calendar is helping to sell Pro Wrestling tickets for as many promotions as we can find from around the world. Each event has ticket links, venue info, date and time. But some events have a lot more like announced matches and preview videos, and are basically event previews. It depends on the info available at the time we post the event and if we're able to update it in time. The other goal is keeping fans up to date on events, as best we can. We can't possibly get EVERY Wrestling event, but you'll see we have more then most anyone else. We do our best to maintain around 200 upcoming pro wrestling events at all times. We have already posted over 2500 events since we started this in late 2018. Events from the largest promotions in the world to small Indie promotions. We started with United States & Canadian promotions but have recently been adding more from around the world. Some days have one to three events and some have over twenty on the same day, so may have to click at the bottom to see more on a certain day. Also we recently made it possible for anyone to comment on any of these event pages (also our news). If you're a fan who went to an event, feel free to leave a comment about it. If you're watching live, feel free to use this page as a live discussion. This calendar is totally free, owned and operated by Pro Wrestling fans simply wanting to help other fans.