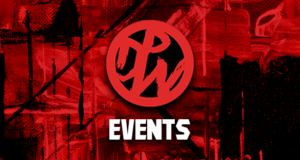 WWE Live Lafayette | New Years Revolution
The WWE New Years Revolution Tour heads to the Cajundome in Lafayatte on January 17th!
Tickets for WWE Live Lafayette are on sale at the link below.
---
---
WWE LIVE New Year's Revolution Tour – CAJUNDOME 1/17/20

****THIS FRIDAY****WWE LIVE New Year's Revolution Tour slams into the CAJUNDOME on this Friday, January 17! Don't miss your chance to see your favorite WWE Superstars! Tickets are on sale now at the CAJUNDOME Box Office, by calling 1-800-745-3000 or here –> http://bit.ly/CDWWE2019And don't forget – meet us early at the BRAND NEW Table Room! Avoid the lines, beat the traffic, and meet your friends for pre-event drinks and fun starting at 5:30pm – one hour before doors open for WWE. More information can be found at www.cajundome.com!

Slået op af CAJUNDOME i Tirsdag den 14. januar 2020
---
---
Check out our free Pro Wrestling Events Calendar for hundreds of more events from around the world.
If you have any questions or comments about this event. Please leave them in our comment section below.
---
The main goal of our events calendar is helping to sell Pro Wrestling tickets for as many promotions as we can find from around the world. Each event has ticket links, venue info, date and time. But some events have a lot more like announced matches and preview videos, and are basically event previews. It depends on the info available at the time we post the event and if we're able to update it in time. The other goal is keeping fans up to date on events, as best we can. We can't possibly get EVERY Wrestling event, but you'll see we have more then most anyone else. We do our best to maintain around 200 upcoming pro wrestling events at all times. We have already posted over 2500 events since we started this in late 2018. Events from the largest promotions in the world to small Indie promotions. We started with United States & Canadian promotions but have recently been adding more from around the world. Some days have one to three events and some have over twenty on the same day, so may have to click at the bottom to see more on a certain day. Also we recently made it possible for anyone to comment on any of these event pages (also our news). If you're a fan who went to an event, feel free to leave a comment about it. If you're watching live, feel free to use this page as a live discussion. This calendar is totally free, owned and operated by Pro Wrestling fans simply wanting to help other fans. * WWE Live Lafayette New Years Revolution *