We are just weeks away from Impact Wrestling's biggest event of the Summer, Slammiversary; One of the most celebrated shows in the company's twenty plus year history outside of Bound For Glory.
So in honor of this year's event, I decided to rundown my list of the 10 Greatest Slammiversary PPV's, also I've posted links to these pay per views or matches that took place below each entry if you'd like to watch them on your own time.
Be Sure to let me know in the comments section what your favorite Slammiversary Pay Per View is and why? Be sure to follow DiscussPW on all their website and social media accounts and you can follow me on my Twitter @FullertonHakeem for more wrestling related content like this…
---
10. Slammiversary 2013
Ok, in all honesty I had a hard time deciding between this and the 2014 edition of Slammiversary as both shows are kind of similar in that their both sort of middle of the road events in the shows history, but I went with 2013 because there are four matches on the card that really help to elevate this Slammiversary.
The first of these four matches sees Chris Sabin, Kenny King and Suicide facing off in the Ultimate X match for the X Division Chmpionship in a solid opening bout that went over 15 minutes and got the crowd hyped up for things to come.
Later on in the night Kurt Angle becomes the newest member of TNA/Impact Hall of Fame before having a barnburner of a match with one of his long time rivals, AJ Styles. Elsewhere Taryn Terrell puts on the performance of her entire career in the first ever Last Knockouts Standing Match against Gail Kim which helped to get the company some good media attention and even led to WWE copying the idea for their ongoing feud between AJ Lee and Kaitlyn for the Divas Title around the same time.
The main event saw Sting taking on the leader of Aces n' Eights, Bully Ray in a No Holds Barred matched for the TNA World Heavyweight Championship which cultimated in a hard hitting fight between both men which included everything from outside interference to the use of hammers and even the ring canvas was exposed at one point with Bully and Sting using the exposed wooden boards to their advantage.
While most of the show is filled with forgettable stuff like Jay Bradley vs. Samuel Shaw (the future Dexter Lumis), Devon defending the TV Championship against Joseph Park and soon afterwards Abyss plus a six man tag match compete with an incorherent pre-match promo by Hulk Hogan… the opening title match and three final matches on the card are what truly makes this Slammiversary a memorable one.
Slammiversary 2013 (FULL EVENT) | Sting vs. Bully Ray, Styles vs. Angle, Last Knockout Standing – YouTube
---
9. Slammiversary 2021
As the first wrestling event Impact did upon letting fans back into the building following the whole global pandemic, expectations where high for Slammiversary 2021 especially since this was taking place during Impact's short lived partnership with All Elite Wrestling.
Rosemary and Havok defeated Tasha Steelz and Kiera Hogan to become the new Knockouts Tag Champions on the preshow before starting the show off with Josh Alexander retaining his X Division Championship in an Ultimate X which included some of the division's top stars of the past and present like Petey Williams, Chris Bey, Rohit Raju, Ace Austin and Trey Miguel.
Elsewhere on the card, Chelsea Green made her return to Impact to team with her real life husband, Matt Cardona against Brian Myers and Tenille Dashwood, W. Morrissey beating Eddie Edwards, Chris Sabin picking up a surprise victory over Moose, Deonna Purrazzo retained her Knockouts title against a mystery opponent who turned out to be Thunder Rosa and the main event saw a bloody No DQ match between Kenny Omega and Sami Callihan for the Impact World Championship in a match that almost went half an hour and saw the unexpected Impact debut of Bullet Club leader, Jay White followng the match.
Was everything on the show perfect…no, the editing the towards the end left fan perplexed, the "match" between FinJuice vs. Madman Fulton and Sherea was literally blink and you miss it and the tag title match was a bit of a crowded mess plus the debut of No Way Jose in Impact…meh.
Rosemary & Havok vs Fire 'N Flava: FULL MATCH (Slammiversary 2021) | IMPACT Wrestling Full Matches – YouTube
Jay White ATTACKS After Slammiversary Goes Off The Air! | Slammiversary 2021 Highlights – YouTube
---
8. Slammiverary 2017
It still boggles my mind how the company was able to produce a show like 2017's Slammiversary event as 2017 is widely regarded by most Impact fans as one of the worse years in the promotion's entire history, yes I'm even including the Hogan Era when I say that.
Well if 2017 was an absolute dumpster fire for the former TNA Wrestling, that year's Slammiversary was by far the biggest, brightest highlight of the entire calender year.
Things got underway with a spectular four way tag title match which included future AEW stars Santana & Ortiz, future WWE stars Angel Garza and Santos Escobar, future Bullet Club member Taiji Ishimori and future Vice President of Pro Wrestling Noah, Naomichi Marafuji.
Moose teamed with DeAngelo Williams in a tag match against Chris Adonis and Eli Drake in a tag match that saw the former Pittsburgh Steelers player put a good peformance for a non wrestler. EC3 took on James Storm in a strap match, Eddie and Alisha Edwards defeated Angelina Love and Davey Richards in a Full Metal Mayhem Mixed tag match and Sonjay Dutt defended his X Division title against Low-Ki in a soild 2 out of 3 falls match.
The last two matches where unifcation title bouts as GFW Women's Champion Sienna (aka Allysin Kay) took on Knockouts Champion, Rosemary while Alberto El Patron took on Bobby Lashley with the Impact and GFW World titles at stake.
In short, this event was better than it had any right to be and that's before you also realize that this card also saw ring announcer Jeremy Borash and Joseph Park take on the unlikely team of Scott Steiner and Josh Matthews…Yeah 2017 was a real crazy year folks.
Slammiversary 2017 | FULL PPV | Lashley vs. Alberto El Patrón, EC3 vs. James Storm – YouTube
---
7. Slammiversary 2016
One year before the previous entry, the company produced a Slammiversary that could best be seen as the Beginning of a New Era the show was filled new wrestlers who would go on to become stars in the company and in other promotions years later.
A multi man X Division title match featuring the future Joaquin Wilde and Cameron Grimes started off the proceedings before eventually getting into some stellar matches like a Three Way Knockouts Title match with Sienna, Gail Kim and Jade (Mia Yim), Eli Drake defending the King of the Mountain Championship, the BroMans vs. Decay for the tag team titles, EC3 vs. Mike Bennett, Jeff Hardy vs, "Broken" Matt Hardy in a Full Metal Mayhem match and one of my personal favorite bouts on the card: Bobby Lashley vs Drew Galloway for the TNA World Heavyweight Championship.
Sure there's some filler thrown into the card in certain places and most folks at the time were paying more attention to the company's financies then the wrestling or storylines, but looking back at the show now, it still holds up really well today.
SLAMMIVERSARY 2016 | Lashley VS Drew Galloway | Jeff Hardy VS Matt Hardy – YouTube
---
6. Slammiversary 2005
Speaking of old wrestling shows that still hold up well today, the very first event to bear the Slammiversary name makes into onto this list as the PPV much like the year it took place in was at a period when the company was the hottest it had ever been
The show was host to a number of matches that range from being okay like the opening six way match and Bobby Roode vs. Lance Hoyt to forgettable slogs like Ron Killings vs. The Outlaw and America's Most Wanted vs. 3Live Kru, but the show also had some great matches like Alex Shelley vs. Shocker, The Naturals vs. Team Canada's Eric Young and Petey Williams for the TNA Tag Team Titles, the Three Way X Division Elimination Title bout and the main event which saw Raven finally become the NWA World Heavyweight Champion in the first ever King of the Mountain match at Slammivesary.
Add in a very engerized crowd in the Impact Zone and the TNA debuts of legendary manager, Jimmy Hart and Ring of Honor star Samoa Joe and you've got yourself a great show from a very great year in professional wrestling.
Slammiversary 2005 | FULL PPV | AJ Styles vs Abyss vs Monty Brown vs Sean Waltman vs. Raven – YouTube
---
5. Slammiversary 2008
2005 is rightiful seen as one of the best year's in company history as evident by the fact TNA got a TV Deal with SPIKE, a Five Star Classic bout at Unbreakable and the inaugural Slammiversary PPV, but if there was another year pre Hulk Hogan that could almost rival '05 it would have to be 2008.
'08 saw the company staked with some of the most over the top, colorful and atheletic wrestlers outside the WWE and much of that talent was on display at this event; From a pretty good six woman tag match involving Gail Kim, Roxxi and ODB vs. The Beautiful People and Moose (not the football star turn wrestler), the first of two Styles vs. Angle matches to take place at Slammiverary and a slew of soild title matches between Kazarian and Petey Williams, Team 3D vs. Homicide and Hernandez and the main event seeing a who's who of former and future world champions: Rhino, Christian Cage, Bobby Roode, Booker T and Samoa Joe fighting in a King of the Mountain Match for the TNA World Championship.
Ok this was TNA Wrestling were taking about some there is some stuff on here that wasn't great like the wedding between Jay Lethal and SoCal Val can best be seen as a carbon copy of the Macho Man and Miss Elizabeth wedding from Summerlsam 1991, the match between Styles and Angle centering around AJ having some feelings for Kurt's wife, Karen and Angle wanting to destroy him for it…boy that certain aged well didn't it, and an Elvis impersonator interactioning with Awesome Kong because…this show took place in the South, I guess?!? Fun fact Kong defended her Knockouts Title in two squash matches on this show and one of her opponents was future All Elite Wrestling star, Serena Deeb…The more you know.
Despite those flaws, this show is certain a classic and really shows why TNA was seen as competition to the WWE for many years.
SLAMMIVERSARY VI | FULL | Samoa Joe | Booker T | Christian Cage | Rhino | Kurt Angle | Bobby Roode – YouTube
---
4. Slammiversary 2020
Most fans tend to gloss over all of the wrestling that took place during the pandemic due in large part to the lack of crowds and fan reactions during this time, but if there was one pandemic era show that I would suggest fans go out of there way to watch it would be Slammiversary 2020.
Outside of a Moose vs. Tommy Dreamer Old School Rules match and some TNA-ish antics of former ref turned manager, John E. Bravo during the Knockouts Gaunlet match everything else on this show was great; The Motor City Machine Guns returned and defeated The Rascalz in the opening contest, Chris Bey suprising everyone by defeating Willie Mack not long after his debut to become the new X Division Champion, Ethan Page and Josh Alexander retained their world tag team titles against the makeshift team of Sami Callihan and Ken Shamrock , before getting challenged to a match by Shelley and Sabin on Impact.
The last two matches are easily the best of the entire card with Jordynne Grace and Deonna Purrazzo putting on the best women's match of the year for the Knockouts Championship and the five way world title match for the vacant Impact World Championship not only helped in establishing Trey Miguel and Ace Austin as future main eventers, but it also set in place the rival between Rich Swann and Eric Young not to mention that Luke Gallows and Karl Anderson made the save for Eddie Edwards following the match.
Considering the the matches, moments and suprise returns/debuts that took place on this show it is a bit of a shame the crowd weren't in attendance for this one, but fans would get to see the following year's event which as I prevously mentioned on this list, so you know it was good show.
Impact Wrestling Slammiversary 2020 – #1 Contender Knockout Gauntlet Match. – YouTube
Jordynne Grace vs. Deonna Purrazzo (FULL MATCH) | Slammiversary 2020 – YouTube
Five Way Elimination Match For The Vacant World Championship | SLAMMIVERSARY 2020 – YouTube
---
3. Slammiversary 2019
An overlooked Slammiversary in the grand scheme of things, 2019 was an underrated year for Impact which may have something to do with the fact that there was a new wrestling promotion starting up at the time, even so Impact was able to provide a really great show with some notable matches.
The three way tag title match was good even if the sequence where Santana gets "injured" in order to protect LAX from getting pinned was flat, Johnny Impact vs. Rich Swann for the X Division title was a stellar match meanwhile Johnny's wife, Taya Valkyrie put on a dominant display alongside Rosmeary, Havok and Su Yung in a four way Monter's Ball for the Knockouts Championship.
Other matches on the card included a four way X Division contest, Moose taking on another ECW legend at Slammiversary in the form of Rob Van Dam, Brian Cage defending his world title against Michael Elgin in a hidden gem of a match and Eddie Edwards taking on Killer Kross in a first blood match. The final match was a 'Battle of Sexes' as Tessa Blanchard took on Sami Callihan in a 15 minute instant classic that make even the most anti-intergender wrestling give this bout a round of applause.
Slammiversary 2019 | FULL PPV | Sami Callihan vs. Tessa Blanchard, Brian Cage vs. Michael Elgin – YouTube
---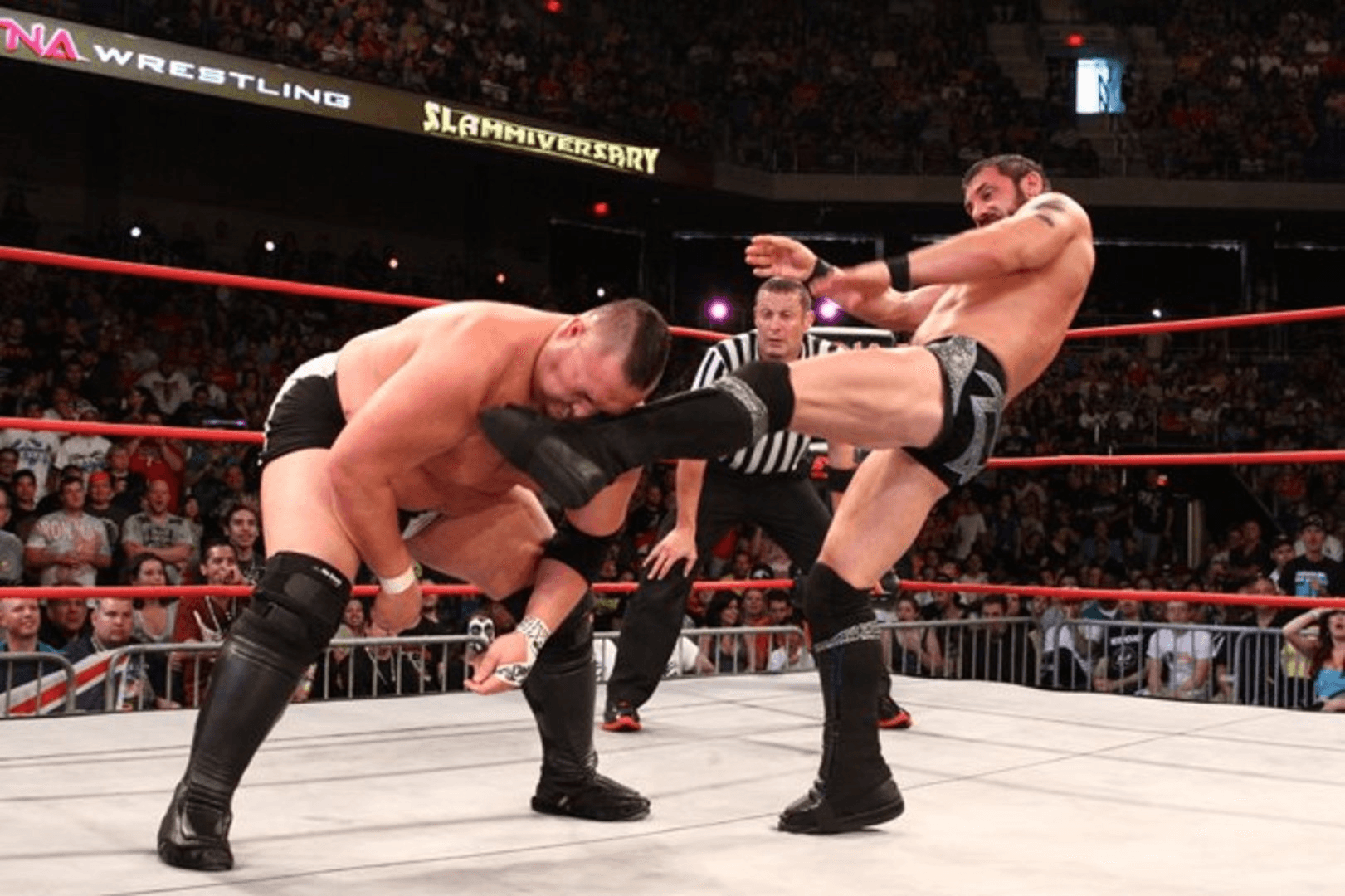 2. Slammiversary 2012
In my humble opinion, 2012 the last good year for TNA Wrestling in terms of work rate and storytelling blending well with each other outside of the Clarie Lynch stuff. Slammiversary 2012 holds a special place in the hearts of longtime TNA Wrestling fans as this was the show that marked 10 years of the company's existence and it also helps that it just a tremendous event.
Samoa Joe vs. Austin Aries for the X Division Title is easy one of the best opening matches in the history of Slammiversary and helped to start the show off on a strong note.
RVD, Mr. Anderson and Jeff Hardy all faced off in a triple threat match to determine the number one contender for the world title, Gail Kim helped another former WWE Diva to become a legit wrestler with Brooke Tessmacher who scored the biggest win of her career in her home state of Texas, the match between Joseph Park and Bully Ray was a good hardcore/TNA style of nonsense that the fans could get behind and the Angle/Styles vs. Bad Influence match easily could've been the main event for this show.
This combined with James Storm returning and ending Crimson's undefeated streak, Christian Cage's surprise one night return to the company and the announcement of Sting's being the first inductee into the TNA Hall of Fame helps to make the event feel even more special.
The show itself isn't perfect with matches like Hernandez vs. Kid Kash and Robbie E and Rob Terry vs, Devon and Garrett Bischoff had no business being on major pay per view and the main event of Sting vs. Bobby Roode was good but their previous bout at Victory Road earlier that year was a bit better.
In terms of Slammiversry feeling not just like a yearly pay per view where good to great matches occur, but to actually feel like a celebration 2012 certainly achieves that, however there is just one more show that manages to truly feel like an all-time classic and that would be…
TNA Slammiversary 2012 (FULL EVENT) | Sting vs. Bobby Roode, Styles and Angle vs. Bad Influence – YouTube
---
1. Slammiversary 2018
Easily one of the all time best PPV's in company history, Slammiversary 2018 is the perfect blend of hype, storytelling, in-ring action and feverious crowd reaction all taking place inside the gorgeous looking Rebel Complex in Toronto, Ontario Canada.
If Slammiversary 2012 was a celebration of the company turning 10 years old then this Slammiversary is the celebration of new beginning within the company as much of the previous decade was mired with so much problems both in front and behind the camera that it lead many to believing that the former TNA Wrestling was on the way out…thankfully this show put those ideas to rest.
Every match on this card delivered with the international four way X Division bout up their in top 5 best opening matches in Slammiversary History, Tessa Blanchard's in-ring PPV debut against Allie was good as well as the X Division title match between Brian Cage and Matt Sydal (minus the botched shooting star press towards the end), heck even Tommy Dreamer vs. Eddie Edwards and Madison Rayne vs. Su Yung for the Knockouts Championship…matches some could see as middling on a great show had some good moments.
Santana and Ortiz defended their Impact World Tag Team titles in a hard hitting street fight against Homicide and Hernandez with soon to be AEW stalwart, Eddie Kingston in their corner; Pentagon Jr. took on Sami Callihan at the height of the latter's hated heel phase in a mask vs. hair that was so brutal, bloody and disguisting it would almost make you think your watching a match from GCW or CZW.
And then the main event Moose vs. Austin Aries for the Impact World Championship: David vs. Goliath, but with a twist as Moose, the former Football player turn wrestler with only a handful of years in the business takes on Austin Aries, a proven star, multiple time champion and a man so self assure of his own ablities that he would literally come to the ring with a cape with the words: The Greatest Man That Ever Lived.
The match, in addition to ending the show on a high note was a proving ground to see if Moose had what it took be a future main event star in Impact Wrestling and it's safe to say that he proved that in this career defining match. In short, Slammiversary was 2018 was a direct message to to those who doubted the company for many yearand in the process Impact produced one the best wrestling shows of the last decade.
Slammiversary 2018 (FULL EVENT) | Aries vs. Moose, Pentagon vs. Callihan, LAX vs. OGz – YouTube
---
And that's my list, What are your favorite Slammiversary's in TNA/Impact Wrestling and what matches are you looking forward to for this year's event? leave thoughts down below and I'll see you for the next article.